FREE CONSULTATIONS*

330-725-4114

600 E. Smith Road, Medina, OH 44256
4 Steps to Take Immediately Following a Car Accident in Ohio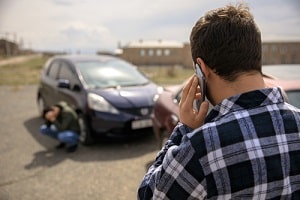 As is the case with most emergency situations, getting into an auto accident can be traumatic. From the instant you feel the impact of the collision, it may seem like everything goes by in a blur. No one anticipates being injured in a crash when they hop in their car to go to work or the grocery store. However, it is a good idea to have a checklist in the back of your mind in case you ever find yourself in this situation. In many cases, car accidents can result in serious or even fatal injuries. If you fail to take the proper measures on the scene, you could jeopardize your ability to receive the compensation that you deserve. The actions you take at the scene of the accident can influence how plausible your case is to the court. That is why hiring an experienced attorney is crucial when filing a personal injury claim. By following the below steps, you can increase your chances of seeking damages.
Check for Injuries
Before making any movement, it is imperative that you check yourself for injuries and ask your other passengers about any pain they may be experiencing. Evaluating your health and safety is important, because the adrenaline from the collision can cause you to disregard serious injuries and risk worsening them. Once you have checked your own health and looked for any obvious wounds, you can proceed to evaluate the rest of the situation. If possible, you should move your car to the side of the road or to a safe area to avoid further damage from other vehicles.
Call for Help
Your first call should be to emergency services. Even if you feel like you do not need an ambulance on the scene, this will ensure that a police officer has a chance to assess the situation. The driver who caused the accident will likely try to convince you to keep the police out of it, but this could result in you losing out on a portion of your compensation. Police reports can be very helpful for personal injury cases, since those official records are considered reputable and objective by the court.
Keep Your Own Records
Police reports may be important, but that does not mean that you should not be taking your own notes. Officers are bound to miss things, or they may not notice some of the details that you remember. Write down the other driver's license plate number, take down his or her name and contact information, and take pictures of the crash scene if you can. All of these details will be helpful in making your case in the future.
Take Legal Action
Once you have left the scene of the accident, you should immediately consult a reputable attorney before contacting your auto insurance company. Insurance companies may try to avoid a payout or deny your claim for compensation altogether. When addressing the expenses and damages resulting from the collision, you should include all fees that were a result of the accident, including vehicle repair costs, medical bills, and any lost wages because of your injuries.
Contact a Medina County Car Accident Lawyer
Personal injury cases should be filed and dealt with in a timely manner, and this will give you a better chance of collecting the appropriate compensation. It can be difficult to file a personal injury case due to the resulting physical and emotional trauma, but an experienced lawyer will take care of the legal stress. At The Law Offices of Andrew M. Parker, LLC, our attorneys have over 21 years of combined experience working with clients throughout the state of Ohio, and we offer free consultations in most cases. We help injured individuals and families secure the financial assistance that they deserve for their pain and suffering. If you or your loved one has been hurt in a car accident, contact our Medina personal injury attorneys today at 330-725-4114.
Sources:
https://www.bmv.ohio.gov/more-crashreports.aspx
https://publicsafety.ohio.gov/wps/portal/gov/odps/what-we-do/crash-reports/