What Are the Main Causes of Truck Rollover Accidents in Ohio?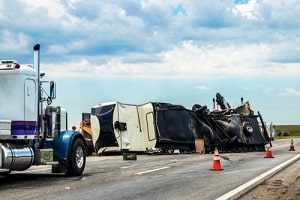 Being stuck driving next to a large, commercial truck is often inevitable when you are navigating Ohio highways. These massive vehicles' integral role in shipping and distributing goods can make it feel as if they own the roads. This can be intimidating as a passenger vehicle driver -- not only can you not see around the truck, but you may see the large vehicles drifting between lanes from time to time, placing the other drivers and passengers at risk of an accident.
One common accident that involves commercial truckers is known as a rollover accident. If you have ever seen a truck flipped over on the side of the highway, you have witnessed the aftermath of these catastrophic events. Rollover accidents are especially dangerous because the commercial truck can hit a number of other cars in the process. In some instances, these trucks can roll in the middle of the highway, hitting other vehicles and blocking the roadway, while in other cases, the trucks may roll off the side of the highway. Any drivers and passengers who get injured in truck accidents can file a personal injury claim to receive compensation for their injuries. Depending on the cause of the accident, one or more parties may be held liable for your injuries.
Causes of Rollovers
If you are injured in one of these accidents, you may falsely believe that external and uncontrollable factors are to blame for the accident. But with the help of an experienced personal injury lawyer, you can find the true cause of the accident and hold the guilty parties responsible. The following are three common causes of rollover accidents:
Driver Error: A driver's actions are often to blame for an accident. According to statistics, driver error is responsible for three-quarters of all rollover incidents. In many cases, a truck driver's drowsiness, inattention, or inexperience leads to these severe rollover accidents. In instances such as these, the truck drivers themselves would be considered liable for the accident and your injuries.

Vehicle Conditions: In order to avoid dangerous or defective parts being allowed on the roadway, commercial vehicles undergo regular inspections. However, damaged parts can sometimes fly under the radar. According to a recent Federal Motor Carrier Safety Administration (FMCSA) study, brake defects were found in 54 percent of the vehicles involved in rollover accidents. If damaged or defective parts are to blame, the vehicle manufacturer or inspector may be held responsible for your injuries.

Load Size: The way that trucking companies load their cargo can place both the truck driver and passenger vehicle drives in danger. Over 90 percent of rollovers occur while commercial trucks are carrying partial loads. Any shifts in cargo can make the back end of the truck unsteady on the road. If the truck's cargo was packed incorrectly, the employee or company in charge of loading the truck may be held accountable.
Contact a Medina County Personal Injury Lawyer
Watching a commercial vehicle roll off the side of the road is frightening enough, but seeing this massive vehicle coming toward you can be traumatizing. Rarely do passenger vehicle drivers who get hit in rollover accidents escape unscathed. The legal team at the Law Offices of Andrew M. Parker, LLC defends those who have been injured in catastrophic accidents such as these. Our Medina truck accident attorneys have over 21 years of combined experience that we put toward our clients' cases to help them obtain their deserved compensation. If you have been injured in a car or truck accident, contact our firm today at 330-725-4114. We offer free consultations in most cases.
Source:
https://www.atbs.com/knowledge-hub/trucking-blog/preventing-truck-rollovers