What are the Benefits of a Prenuptial Agreement?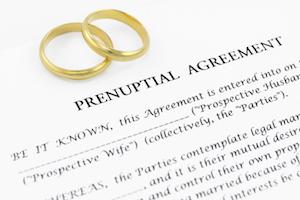 The history of prenuptial agreements can be traced back 2,000 years, but they began to benefit women in the United States during the 19th century. Before the Women's Property Act of 1848, a woman could not have property in her name. In cases in which a woman's husband would leave or pass away, a prenuptial agreement would ensure she would be left with something. After the act became law, prenuptial agreements protected women from their husbands taking advantage of their inheritances or property.
Today, prenuptial agreements have a similar purpose to situate finances before marriage in case either party wants a divorce sometime in the future. Preparing for divorce before walking down the aisle may feel like planning for a marriage to fail, but in reality, it helps couples communicate truthfully about their finances.
What is in a Prenup?
In signing a prenup, financial expectations are finalized before marriage. There is no hiding debt of secret bank accounts with a prenuptial agreement. Lying in this notarized document is perjury. Some people get into marriages without knowing what kind of financial baggage their significant other carries, and that can lead to trouble down the road.
Signing a prenuptial agreement will also protect inheritances. This can be the inheritance a person entering a marriage will receive or that is to be passed on. If a person is entering a second marriage with children, a prenuptial agreement would protect the money intended for those children if the second marriage fails.
A prenup can also detail expectations for the marriage, including if one spouse will primarily work as a stay-at-home parent and while the other builds their career. It can address the division of marital property and alimony in a divorce. It cannot set agreements for child custody or child support.
While you may think proposing a prenup to your future spouse could make them feel uneasy, the stigma that long surrounded these agreements has largely disappeared. In order to make sure a prenuptial agreement is fair for both parties, it is recommended that future spouses hire separate attorneys.
Contact a Medina Family Law Attorney
Signing a prenuptial agreement secures your financial future and inheritances if you and your partner decide to get a divorce. Contact a Wayne County prenuptial agreement attorney at The Law Offices of Andrew M Parker, LLC to help you create an agreement that works for you as a couple. We offer free consultations in most cases. Call 330-725-4114 to schedule an appointment.
Sources:
https://www.thespruce.com/prenuptial-marriage-agreements-2300430