Should Advance Medical Directives Be Included in My Estate Plan?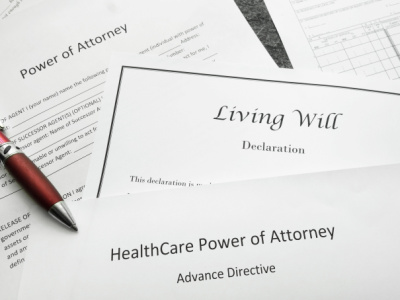 When it comes to estate planning, many people focus on making decisions about how their assets should be distributed after passing away, and they may create wills or trusts to ensure that their wishes will be carried out correctly. While this is an important aspect of estate planning, it is also important to consider how a person's needs will be met during the rest of their lifetime. These can be especially crucial issues to address as a person ages, since they may not be able to fully care for themselves when they reach an advanced age, but they will still want to make sure the decisions they have made about their healthcare will be followed correctly. Advanced medical directives that address these issues can play an important role in your estate plan.
Understanding the Options for Advance Medical Directives
An advance medical directive is a legal document that allows you to make decisions about your healthcare in the event that you become unable to communicate or make decisions for yourself. These directives ensure that your wishes regarding medical treatment and end-of-life care are known and that your desires will be respected, regardless of what may happen to you in the future.
There are several types of advance medical directives, each serving a specific purpose:
Health Care Power of Attorney: This document designates someone as your healthcare agent who can make medical decisions on your behalf if you are unable to do so. Your agent may also be known as your "attorney-in-fact." It is important to choose someone you trust implicitly and discuss your wishes with them beforehand. You can also include detailed instructions regarding the types of treatment you do or do not want to receive, ensuring that your care will be handled correctly.

Living Will: While a will addresses how matters should be handled after your death, a living will outlines the type of medical treatments and interventions you would like to receive or refuse if you have a terminal condition or are permanently unconscious. Your living will can provides guidance for healthcare providers, and it may state that you do or do not want to receive certain life-sustaining treatments or that you should be allowed to pass as peacefully and painlessly as possible.

Do-Not-Resuscitate (DNR) Order: If you have a terminal condition, you may wish to be allowed to die peacefully rather than being kept alive unnecessarily. A DNR order instructs healthcare professionals not to perform cardiopulmonary resuscitation (CPR) if your heart stops beating or if you stop breathing. This decision may be made based on personal beliefs, quality of life considerations, or discussions with doctors.

Guardianship Designation: If you need assistance addressing healthcare issues and daily needs, a guardian may be appointed who will have the right to make decisions on your behalf and the responsibility to provide for your care. You may nominate a person who you would like to act as your guardian if you become incapacitated or are unable to manage your own needs. While this will not necessarily result in that person being appointed as your guardian, the court will take your desires into consideration when determining how guardianship should be addressed.
By including these advance medical directives in your estate plan, you can ensure that your healthcare wishes are known and followed, even if you are unable to communicate them yourself. Planning for your incapacity and detailing your wishes can help your family avoid uncertainty about what you would have wanted, and it can offer peace of mind that your needs will be met even if the unexpected should happen.
Contact Our Wayne County Advance Directives Attorneys
If you have questions about including advance medical directives in your estate plan, or if you want to make sure the proper steps are taken to protect your interests and follow your instructions, it is important to consult with an experienced estate planning attorney. At The Law Offices of Andrew M. Parker, LLC, our Brunswick advance medical directive lawyers can guide you through the process and ensure that all necessary documents are properly drafted and executed. Contact us at 330-725-4114 to set up an appointment where we can discuss these issues and help you put a comprehensive estate plan in place. We provide free initial consultations for most clients.