How Can I Establish Paternity in Ohio?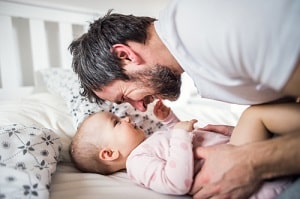 When a woman gives birth to a child, she is obviously the biological mother of that child. She does not need to take any additional steps to become the child's legal parent. When a married couple has a child, the husband is automatically assumed to be the father. However, when an unmarried couple has a child, the father will need to take certain steps to declare himself as the child's legal parent. There are several ways you can establish paternity in Ohio. Read on to learn more and the benefits it can provide for both the father and his child.
The Importance of Establishing Parentage of a Baby
In the state of Ohio, there are several individuals who can bring an action to establish paternity. The child's mother or father can establish paternity, or the Child Support Enforcement Agency or a representative of the child can do so. Once paternity has been formally established, the mother will be able to start collecting child support. Establishing paternity is also necessary for the child to receive health insurance coverage, social security or veteran's benefits, or an inheritance from the father. Most importantly, establishing the legal relationship between a father and his child can encourage the father to become more involved in his child's upbringing.
Methods of Establishing Paternity
If the mother and father agree that the father is indeed the biological father of the child, establishing paternity is easy. The couple will sign an Acknowledgement of Paternity Affidavit at the hospital when the baby is born, at the county Child Support Enforcement Agency, or at the Vital Statistics Registrar. When there is uncertainty regarding the child's biological father, DNA testing may be necessary. In order to establish the biological relationship, a saliva sample is taken from the mother, the alleged father, and the child. If the results indicate that the alleged father is the biological father, an Administrative Order of Paternity may be granted.
Another way that paternity can be established is through a Court Order of Paternity. Paternity cases can be brought by the mother, the father, or a lawyer representing the Child Support Enforcement Agency. If the court finds that the alleged father is indeed the biological father, a Court Order of Paternity will be issued. Once a father's paternity is legally established, he will be required to provide child support to the child, and he will be able to petition for child custody and visitation rights.
Contact a Medina County Paternity Lawyer
Fatherhood is a major responsibility, and that is why it is important to legally recognize a child's father. If you need help establishing paternity, collecting child support, or resolving other family law matters, contact The Law Offices of Andrew M. Parker, LLC. Call us today at 330-725-4114 to schedule a consultation to discuss your concerns with an experienced Brunswick family law attorney. We offer free consultations in most cases.
Sources:
https://jfs.ohio.gov/Ocs/PaternityEstablishment_Overview.stm
http://codes.ohio.gov/oac/5101%3A12-40