Can I File a Claim if I Was Injured in an Ohio Car Accident Caused by a Defective Part?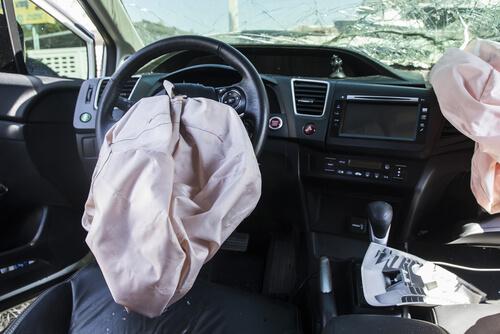 When most people think of car accident claims and lawsuits, they usually imagine situations where two or more vehicles were involved in a collision caused by one of those drivers engaging in an activity or behavior that resulted in the crash. Unfortunately, there are also many people injured – even killed – in accidents that are the result of a dangerous or defective vehicle part. In these situations, the injured individual may be able to pursue legal action against the vehicle manufacturer or other responsible entity for damages they sustain as a result of the accident.
Vehicle Recalls
Every part of the manufacturing of a vehicle, from the initial design of the vehicle to the time it rolls off the assembly line, involves a process that is supposed to include multiple safety checks and inspections to ensure that all parts of the vehicle are safe. Consumers depend on this process, trusting that the vehicle they are purchasing is free from defects or dangerous issues.
Unfortunately, far too many vehicles end up with issues that prove to be dangerous to owners, their passengers, and other commuters they share the road with. Some of these issues are unknown to the manufacturer and are only discovered after complaints are filed by consumers who have had bad experiences. Other issues are known by manufacturers who decide to keep the information secret, putting profits over people.
Two of the most well-known recall cases where manufacturers knew their products were deadly are the GM ignition switch scandal that resulted in the deaths of 124 people and injuries to thousands more, and the Takata airbag scandal. The Takata airbag recall involved almost 70 million vehicles over the past decade, with new recalls being added each year. This year, four more people died in the U.S. from exploding Takata airbags.
Although manufacturers are required to notify vehicle owners when they have issued a recall, it is still a smart idea to periodically check to see if your vehicle is on any recall list. This can be done right on the National Highway Traffic Safety Administration (NHTSA) website. All you need is your vehicle's VIN.
Contact a Medina County Accident Attorney
If you have been injured in a car accident caused by a defective vehicle part, you may be entitled to financial compensation for the losses those injuries have caused, including medical expenses, lost wages, pain and suffering, permanent disability, and more.
Call The Law Offices of Andrew M. Parker, LLC at 330-725-4114 to schedule a confidential consultation with one of our skilled Wayne County car accident lawyers to find out what type of legal recourse you may have. We offer free consultations in most cases.
Sources:
https://www.nhtsa.gov/recalls
https://www.reuters.com/business/autos-transportation/us-confirms-new-honda-death-faulty-air-bag-2022-12-09/
https://www.nhtsa.gov/equipment/takata-recall-spotlight
https://www.usatoday.com/story/money/cars/2017/10/20/gm-settles-deadly-ignition-switch-cases-120-million/777831001/