FREE CONSULTATIONS*

330-725-4114

600 E. Smith Road, Medina, OH 44256
Common Causes of Car Accidents Involving Semi Trucks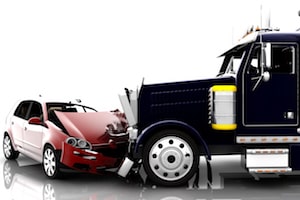 In 2017, there were over 4,000 deaths caused by car accidents involving collisions with semi-trucks throughout the United States. Large commercial trucks weigh significantly more than cars, and they take longer to stop. As a result, the majority of victims who died in truck accidents were the occupants of passenger cars.
Truck Accident Statistics
According to an analysis of U.S. Department of Transportation data by the Insurance Institute for Highway Safety, deaths caused by truck accidents are at an eight-year high. The early 2000s brought a sharp decrease in deaths of passengers involved in truck accidents, but in 2009, deaths began rising.
Large commercial trucks are often associated with highways and freeways, but only 32 percent of accidents that caused deaths in 2017 occurred on those types of roads. The majority of tractor-trailer truck accidents take place on major roads not considered freeways or interstate highways.
Negligence Leading to Truck Accidents
Accidents are possible with all types of motor vehicles, but because of the dangers of commercial trucks, truck drivers and trucking companies are expected to meet certain standards to protect the safety of those who use the roads. Here are some of the most common causes of truck accidents:
Driver Mistakes - Any driver must pay close attention to the road and make important decisions, sometimes at a moment's notice. When a mistake behind the wheel is made, the results can be catastrophic. Truck drivers may cause accidents by speeding, driving aggressively, making illegal turns or lane changes, or tailgating. Accidents can also result from a driver being under the influence of alcohol or drugs or exceeding their allowed number of hours on the road. In these cases, a trucking company and/or driver may be held liable for the accident.
Poor Maintenance - Overlooking proper maintenance of a tractor-trailer truck can put everyone in danger. Trucks carry large and heavy loads for a long amount of time. Basic checks by the driver are important, but it is also up to the trucking company to maintain their property before and after use. For example, worn brake pads will only last for so long, and a large, heavy truck that is unable to stop in traffic could cause many unnecessary deaths that may have been prevented by following proper standards.
Contact a Wooster Truck Accident Attorney
Occupants of passenger cars are likely to be seriously injured in a collision with a commercial truck. If you have been involved in a semi-truck accident, our experienced Medina car accident lawyers can help you hold truck drivers or trucking companies liable for your injuries. We offer free consultations in most cases. Call 330-725-4114 to schedule an appointment.
Sources:
https://www.iihs.org/iihs/topics/t/large-trucks/fatalityfacts/large-trucks
https://gtgtechnologygroup.com/five-most-common-causes-of-trucking-accidents/